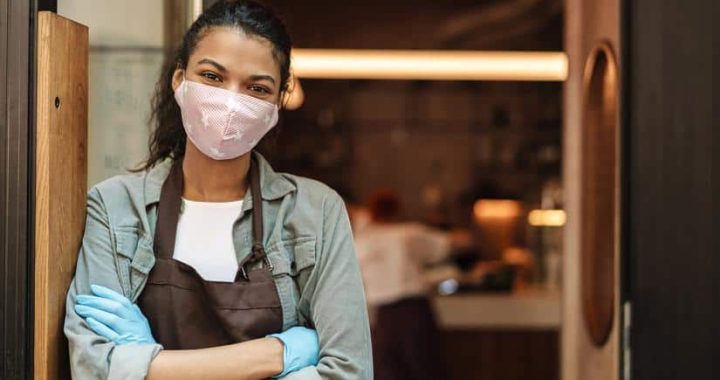 Banks and other lenders must change their funding models to support female-owned businesses, a new survey from the Women's Enterprise Centre shows
Want proof that women entrepreneurs have different funding needs than their male counterparts? Jill Earthy, CEO of the Women's Enterprise Centre, offers a cautionary tale.
WEC began working with Vancouver City Savings Credit Union last June, when B.C. businesses were reeling from the early effects of the pandemic. "They recognized the need to have a loan product combined with the wraparound support services to help businesses, particularly women-led businesses, at that time," Earthy says of Vancity. Recognizing that women entrepreneurs needed more than just funding in the form of a loan program, the credit union joined forces with her organization to offer wraparound support services.

The results? Not great—at first, anyway.
Although many female business owners applied, few of them won approval, recalls Earthy, who says that often happens. "You see all of these incredible marketing initiatives by the banks, which is important because it increases awareness. But it doesn't increase access. So it's one thing if women entrepreneurs start to apply, but it's another if the structures are still in place that don't fit their business model."
That state of affairs was the motivation for WEC's new report, The Path Forward: Advancing the Funding Journeys of B.C. Women Business Owners. The study, based on a survey of some 400 female entrepreneurs, identifies their current obstacles to securing capital—and asks what must happen to close the gap. "Our big-picture reason is we want to influence systemic change by working with financial institutions to recognize the unique funding needs of women entrepreneurs," Earthy says.
WEC's goal aligns with #ChooseToChallenge, the campaign theme of this year's International Women's Day. "We can do better," Earthy says. "The old models don't need to remain. By making a couple of shifts, then we can actually all benefit. But we need to challenge it."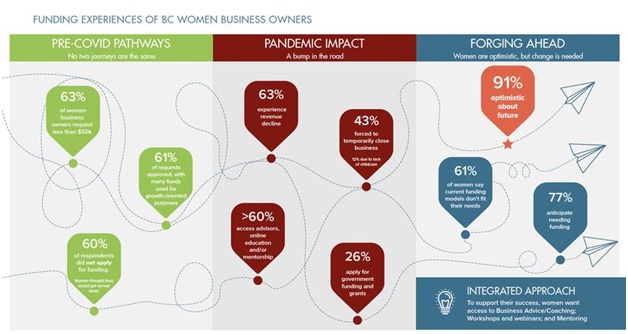 Why women entrepreneurs don't ask for money
The survey, which took place last November, included women who have and haven't received funding from Kelowna-headquartered WEC, whose services include loans, business mentoring and advising, and skills training. It asked respondents about their funding experiences before and during the pandemic, as well as what they expect over the next two years.
During the three years before the end of last March, 63 percent of those who requested funding asked for less than $50,000. However, 60 percent of the survey group didn't ask for money at all. "They didn't apply for funding because their top reason was they thought they would be turned down, so they were self-selecting out," says Earthy, who adds that some women businesses owners choose to self-fund.
As the province moves toward economic recovery, capitalizing these entrepreneurs should be a priority, Earthy argues. "We need them to have the resources they need to be able to grow and thrive in their own way," she says. "We have an opportunity right now because things are a little more nimble, a little more adaptable—because they have to be."
A lack of models that work for them is just one of the funding roadblocks that women entrepreneurs face. Another big one is the application process. More than three quarters of WEC-funded respondents found applying very or somewhat easy. However, 54 percent and 50 percent of WEC-funded and non-WEC-funded women, respectively, said the application process for other capital was very or somewhat difficult.
Marketing is a problem, too, Earthy observes. As the report explains, the symbols, role models and language that lenders use to market their products can contribute to unconscious bias and create barriers to accessing capital.
"The marketing has to be from an inclusive lens," says Earthy, who was previously chief growth officer with Vancouver-based online investment platform FrontFundr, where she now serves as an adviser. "We've been seeing some shifts there, to one, for women to go, OK, this could be me—I could access this."
Research shows that women tend to be risk-astute rather than risk-averse—"more thoughtful, doing more research," Earthy says. "So if they see a program out there, they may not jump to it unless it's speaking their language."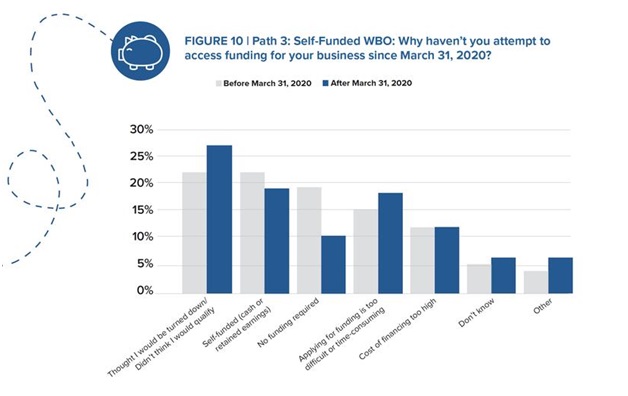 Avoiding the business debt trap
Asked how the pandemic has changed things, Earthy points out that although some female-owned business shut down early on, women lead many of the new ventures that have popped up during COVID. On a less cheerful note, seven out of 10 small businesses in Canada have taken on debt due to the pandemic, according to the Canadian Federation of Independent Business, which estimates that the nation's small businesses now owe a combined $135 billion.
"When we look ahead as far as support from Women's Enterprise Centre, that's what we're thinking about," Earthy says. "How can we help these entrepreneurs to be able to service their debt as they go forward?"
WEC offers loans by co-lending with partners such banks and credit unions. "We're a development lender," Earthy says. "So we come in often when an entrepreneur can't get funding directly from a bank."
Besides loans of up to $150,000 for new and established businesses, WEC provides unsecured credit of up to $50,000. With Western Economic Diversification Canada and the federal government, it also provides loans through the Regional Relief and Recovery Fund (RRRF). "We've been distributing that to women entrepreneurs across the province," Earthy says of the latter, which can be as much as $60,000, with a portion forgivable.
WEC has a 50-percent decline rate on the RRRF loan, she adds. "We don't want to give this funding to companies that are not viable," Earthy says. "Because don't want them stuck with all this debt when they have to repay it. That can impact credit score going forward; that can impact just added stress. So we work very holistically with the entrepreneurs on their business model to make sure that they understand the risk."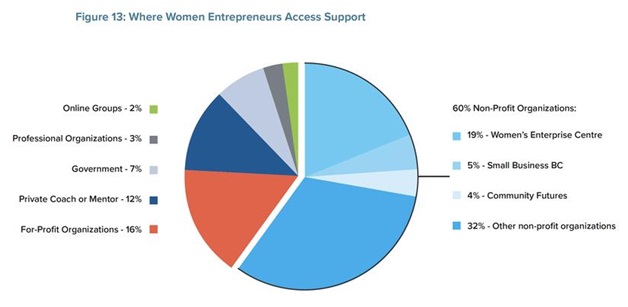 This is not a short-term solution
So what can funders do to make life easier for women entrepreneurs? A different marketing strategy and simpler loan applications are just two ways they can help change the game.
At its board meeting last week, WEC hosted a roundtable with senior lenders from across the province. "Some are familiar with some of this data, and others are not," Earthy says. "Our goal with this is, we want to hold them accountable, saying, You need to change. This is good for your business, but it's good for the entrepreneurs and for all of us, for economic recovery."
For lenders, being part of the solution means considering a wide variety of entrepreneurs—and ensuring that the team assessing loans is a diverse group, Earthy says. "We need more diverse perspectives around the table making those decisions on who is getting funding."
Tracking outcomes is important, too. "How are you tracking the diversity?" Earthy asks. "If we don't measure it, change is not going to happen."
Then there are the funding models themselves. Changing them calls for "redefining what growth looks like, redefining risk," Earthy says. "Why can't we develop a program where an entrepreneur­—there has to be an assessment process, of course—gets $50,000, and then they hit this milestone, and they automatically get this next amount? We make it very complicated."
Moving away from traditional models will help build a pipeline of diverse companies, she reckons. "This is not a short-term solution; this is about making change for these smaller companies to get them to that next level," Earthy says. "Entrepreneurs who develop a relationship with a lending system early on are much more likely to go on and access more capital and support, and grow."
Unicorn? No thank you
Some good news in the WEC report: despite the pandemic, 91 percent of survey respondents said they were optimistic about the future. Almost half of them plan to hire more people this year, and their top two goals are attracting new customers and enabling growth.
"There are a lot of myths out there that women entrepreneurs don't like to grow and that there isn't that growth mindset," Earthy says. "But the key with this report is that there's different definitions of growth and different definitions of success."
Although so-called unicorns get plenty of attention, those high-growth businesses are also very high-risk, she adds. "Women entrepreneurs, and research shows, tend to want to access smaller amounts of funding over a longer period of time for that sustained growth."
Almost four out of five survey respondents expect they'll need funding over the next two years, and roughly 75 percent plan to approach more than one source for capital.
To that end, over the past few months WEC has been working closely with Vancity, especially its small-business banking team, Earthy says. Drawing on WEC's learnings from the past 25 years, the credit union revamped its loan program to make it more accessible to women entrepreneurs. The new report validates this approach.
Vancity recently went back to market with two new offerings. "There was a policy shift that had to occur internally within Vancity to get this new program underway," Earthy says.
The first loan, aimed at smaller businesses, consists of a quick online application form for an unsecured line of credit of up to $20,000. In its report, WEC found that female business owners typical look for between $10,000 and $50,000, Earthy notes. Vancity also reduced the time needed to qualify as a new business from 12 to six months and opened its small-business loan to sole proprietors, many of whom are women. The second loan, which is for up to $100,000, requires applicants to have been in business for 12 months rather than the original 24.
Where the old one failed with women entrepreneurs, this new effort has been a success, Earthy says. "We've seen quite a few approvals."