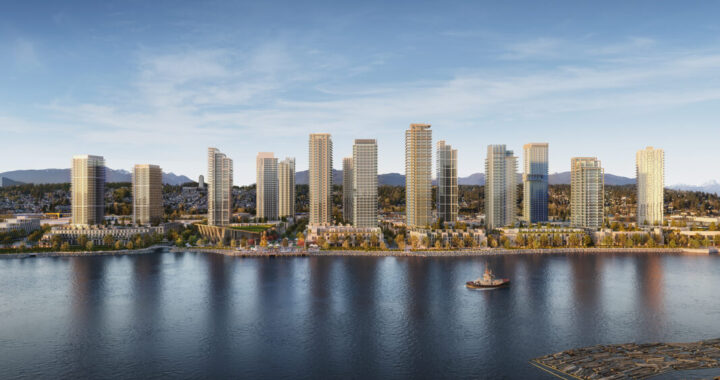 By Rob MacDougall, June 12, 2023
Located along the banks of the Fraser River in South Coquitlam, Fraser Mills will be the city's first and only waterfront community. When complete, this 96-acre neighbourhood will be home to a collection of residences, restaurants, shops, extensive green space, plazas, and an aquatic and community centre. As a new landmark in the region, Fraser Mills will shape the future of Coquitlam and become a legacy milestone community for Beedie.
Beedie's integrated team has envisioned a community in the spirit of the working river it runs alongside. Fraser Mills will celebrate the historic and cultural significance of the village that was built around the thriving sawmill. Masterplan partnerships include the City of Coquitlam, TransLink, Perkins & Will, Perry + Associates, and Bunt & Associates.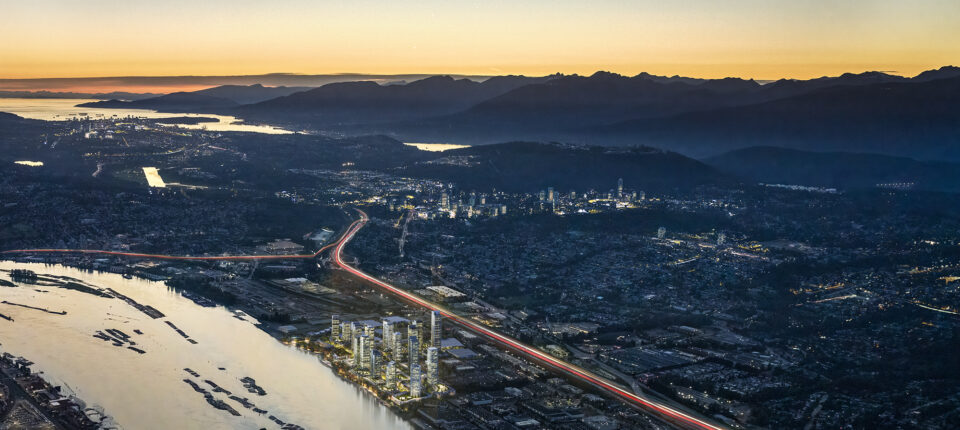 "WE ARE INCREDIBLY EXCITED TO BRING FRASER MILLS TO LIFE. AS COQUITLAM'S FIRST AND ONLY WATERFRONT COMMUNITY, THE PRIME LOCATION ON THE RIVER OFFERS A VIBRANT MIX OF HOMES, WORKPLACES, AND PUBLIC SPACES THAT CATER TO EVERY STAGE OF LIFE."
– RYAN BEEDIE, PRESIDENT.
The development comprises 5,500 new homes, including options for strata and rental properties. It will also feature a vibrant urban plaza, childcare spaces, opportunities for innovative business, over 16 acres of park and recreation and plans for an elementary school. It is intentionally optimized to fully embrace life on the river's banks, filled with gathering places, green spaces, and endless choices for work and play.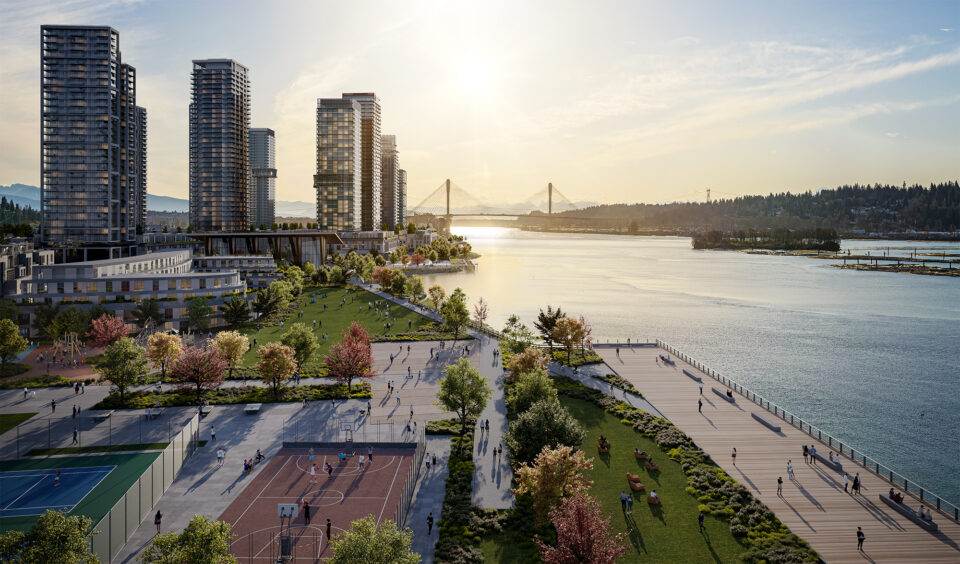 Situated on 96 acres of prime waterfront land, Fraser Mills is designed to be a complete community.
Fraser Mills also boasts an impressive array of amenities and features. Residents and visitors can find the restored wharf at the terminus of King Edward street, a new Fraser Mills pier, and a dog park. Organized activities are planned to enliven the social spaces seasonally, and recreational facilities will offer ample opportunities for fitness, play, and leisure. The park and recreation area will feature sports courts for tennis, basketball, and table tennis, playgrounds, a waterpark, and an urban beach, ensuring there is something for everyone to enjoy.
For more information on Fraser Mills, visit https://www.beedie.ca/residential/the-village-at-fraser-mills/
About Beedie
Beedie is a highly respected and experienced company based in British Columbia, with a nearly 70-year history of building dynamic and accessible communities and industrial spaces throughout Western Canada, Ontario and Nevada. They are involved in residential, industrial, and mixed-use projects, and take a holistic approach to their work. As a family-owned business, Beedie was founded on principles of intelligent design, thoughtful details, and craftsmanship, and they have remained true to these values throughout their growth. Today, they are the largest private industrial landowner, developer, and landlord in Metro Vancouver, and they continue to prioritize high-quality work and community-building in all their projects.
Media Relations:  Max Jakubke, PUBLiSH Partners
Credit to:  Rob MacDougall,