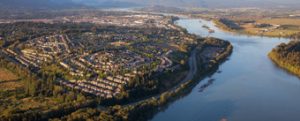 Port Coquitlam is known as "the City of Rivers and Mountains". 
This city is centrally located in the Lower Mainland between the Fraser, Pitt River, and Coquitlam River. This community offers 25 km of trails known as the Traboulay PoCo Trail. PoCo trail completely surrounds the city and is perfect for a variety of outdoor non-motorized activities including cycling, hiking, running, walking, walking your dog and even horseback riding. 
The authentic downtown centre is complete with tree lined main street, decorative street lamps, and there is a variety of specialty shops, restaurants and small business establishments. 
Its picturesque natural setting, business opportunities, small-town spirit and dedication to healthy living combine to offer an exceptional living environment for people of all ages and  is lovingly referred to as "PoCo." 
Population: 62,844  (2018)