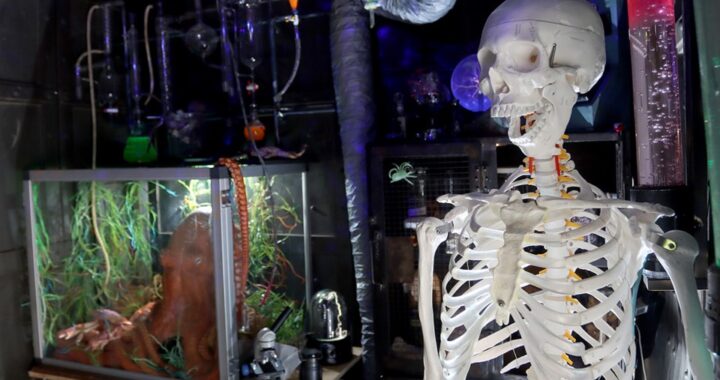 COQUITLAM — Where are the best Halloween houses in the Tri-Cities?
Janis Cleugha, October 15, 2023
The season of zombies and skeletons is back with plenty of haunted homes in the Tri-Cities ready to welcome thrill-seekers and trick-or-treaters.
Coquitlam, Port Coquitlam, Port Moody, Anmore and Belcarra already have some ghoulish displays up — and a few homeowners are even collecting donations for charities while they've got an attentive audience by their door.
Spend the next two weeks touring the Tri-City neighbourhoods to see who has the best props and fright shows.
The Anmore Manor (1151 Robin Way) is back open for another Halloween to frighten visitors. Last year, the creation by Ken Honigman was voted the best in Canada by the Canadian Haunters Association, as well as the Halloween Yard Haunts. The immersive haunted house experience, which includes actors on most nights, is not recommended for kids 10 years and under. Entry is by a cash donation to the SHARE food bank; to date, Honigman has donated more than $15,000 to the social services agency.
Hours of operation:
• Saturday, Oct. 21: 7 to 10:30 p.m.
• Sunday, Oct. 22: 7 to 10 p.m.
• Friday, Oct. 27: 7 to 10:30 p.m.
• Saturday, Oct. 28: 7 to 10:30 p.m.
• Sunday, Oct. 29: 7 to 10:30 p.m.
• Tuesday, Oct. 31: 7 to 9:30 p.m.
Macarthy Whyzel's haunted yard (2968 Forestridge Pl., Coquitlam) includes six themed rooms with evil clowns, zombies and demented dolls, among other things. The display by the 23-year-old Douglas College student is a fundraiser for Backpack Buddies to provide meals to students in School District 43. Last year, he collected about $2,000 for the Greater Vancouver Food Bank.
Hours of operation:
• Weekdays: 6 to 9:30 p.m.
• Weekends: 6 to 10 p.m.
Next door, the haunted house at 2988 Forestridge Pl, Coquitlam is the last for Marlene Bilesky and her family, who are retiring their Halloween display after 23 years. They are collecting for Variety – The Children's Charity.
Hours of operation:
• Daily from 6 to 10 p.m.
• Live actors Oct. 20 and 31