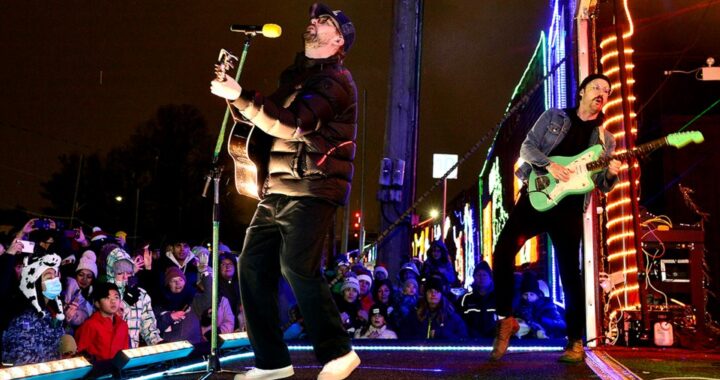 By the time the Holiday Train program wraps up at its last stop in Port Coquitlam, its two trains will have visited six provinces and 14 states.
The 2022 CP Holiday Train rolled into Port Coquitlam, marking the end of the Canadian Pacific Railway Holiday Train's cross-country journey. JENNIFER GAUTHIER/TRI-CITY NEWS FILE PHOTO
The CP Holiday Train will be pulling into stations in Port Moody and Port Coquitlam for its annual visit on Dec. 18.
The cross-North America journey by two trains, decorated with thousands of colourful LED lights and seasonal designs, is celebrating its 25th anniversary of raising money, food and awareness for local food banks.
Since its inception in 1999, the trains' stops in communities as far east as Hermon, Maine, to Shreveport, La., in the south to its final destination in Port Coquitlam, has raised more than $22.5 million and five million pounds of food.
The Holiday Train program rolls out Nov. 20 and will visit six provinces and 14 states, with 191 live music shows from a roster of 10 musicians that perform from a special rail car equipped with its own stage, lighting and sound system. Each train is 1,000 feet long.
The musicians scheduled for the stops in Port Moody and Port Coquitlam are Vancouver-based artist, producer and actor Tyler Shaw and Canadian singer-songwriter Kiesza.
The train will arrive in Port Moody, on the tracks behind City Hall, at 5:20 p.m., Dec. 18, with the musical performances scheduled from 5:45 to 6:15.
It then heads to the West Coast Express station in Port Coquitlam for a 7:05 p.m. arrival time and the show from 7:15 to 7:45 p.m.
Credit to:  Mario Bartel – Oct 20, 2023